Some information for those interested about our forthcoming software update, I've highlighted most relevant in bold...
Key Changes
In addition to many small bug fixes, this release includes:
Performance improvements in: profile view, sitemap generator, posting replies, and Activity Streams
More efficient license key checking to keep the keys from being checked too often which can slow the site down
Admins - There is now a column in tasks view to show the last time it ran to help diagnostics
When a member changes their email or password they now get an email confirmation
If group promotion based on date is enable the system will now auto-promote even if a member does not login
Admins - There is now a setting to change the number of topics per page in the forum view
You can now press ctrl/cmd+enter in any editor window to submit the reply
There is now logic to prevent double-posting when the initial post encounters an error on submit
Moderators can now remove all followers from an item
Contact Us is now configurable with various options
Staff - Announcements can now be restricted by member group
Admins now have a setting to have members automatically follow content they start or reply to. Members can optionally override this.
The editor will now show a message if a link that can be embedded (image, video, etc.) failed to embed for some reason. Admins get more detailed error reasons.
Admins - If our datastore (cache system) is not working properly the AdminCP will now show you a warning telling you that it needs attention.
When a member is banned/suspended the system now shows a more friendly page with information on their ban. Previously it showed a permission denied page.
Security Questions for account security
Security Questions
To enhance the security of our member's accounts we now have a new security questions feature where we can allow our members to put in their own, personal security questions. The member will then be prompted to answer those questions for account actions admins define.
Account Change Emails
Members will now receive confirmation emails when they change their email address or password.
Automatic Following
Our members can already choose to automatically follow content they start or reply to, but now we can define this as the default behavior for all members. Our members can of course override this to their own preference.
Embed Failure Message
To answer a frequent question "why didn't my media embed?" we now show you why. Regular members will just see a message indicating the Suite tried to embed but was not able to. Admins will get more information on what failed.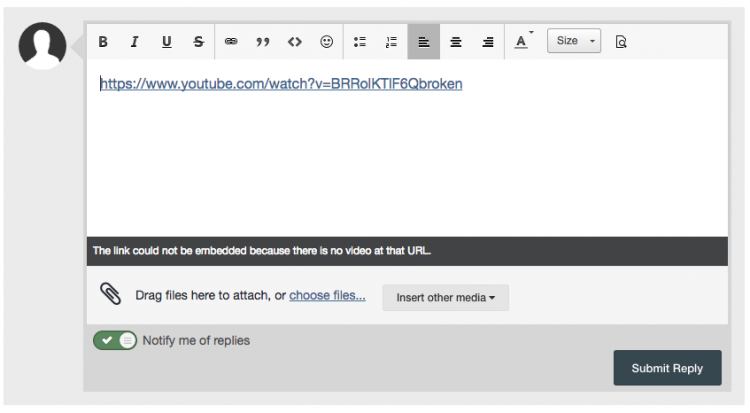 Suspended Member Page
If we banned/suspended a member previously they simply saw a generic permission denied message. We now show a more friendly page saying they were suspended and why.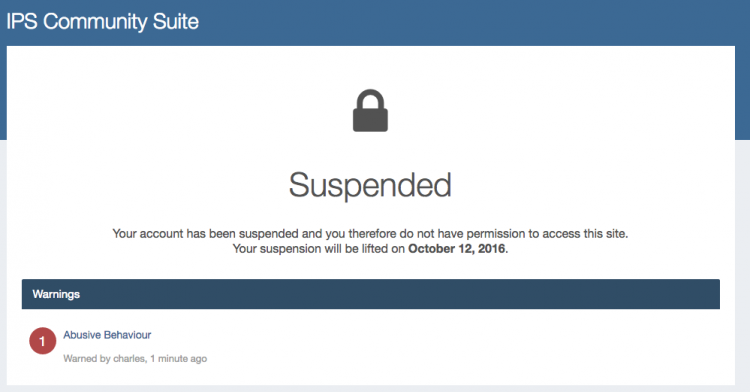 The member can click to get the full information from the Warning System as well.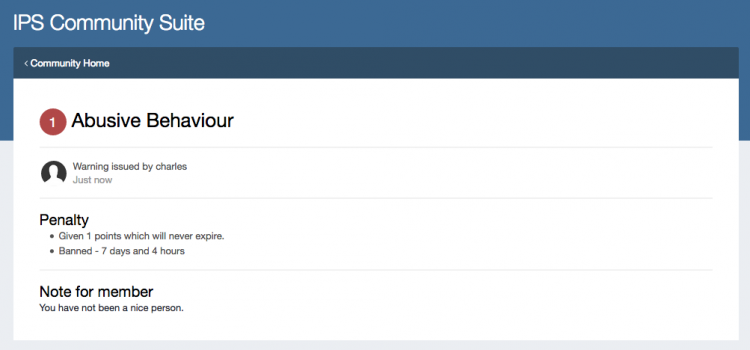 Announcements
Global announcements can now be restricted by member group (such as messages for Guests).
The following update after this one is still in development, but will include 
Added quite a few new embed providers

codepen.io
coub.com
deviantart.com
docs.com
funnyordie.com
gettyimages.com
iFixit.com
kickstarter.com
meetup.com
mixcloud.com
mix.office.com
on.aol.com
reddit.com
reverbnation.com
screencast.com
screenr.com
slideshare.net
smugmug.com
ustream.tv

Auto-saved content in the editor will now expire after 48 hours
If you load an editor that has previous auto-saved content you will now be prompted to keep or remove it
A batch of moderator improvements.
1