This entry is about our TIWWA Community Suite 4.2 release. It is a new feature available to all registered members.
TIWWA's Community Suite software has long had a reputation system; first we had a simple up/down number-based system, later updated to introduce a Likes system, tied in with our reputation system.
We're pleased to introduce the latest updates to the reputation system, which we think you'll love: Reactions.
Quite simply, reactions allow users to offer more fine-grained sentiments towards posted content than a simple 'like'.
Reactions are now in common use on many popular social networks, and so users may expect to be able to be more nuanced in their response to something they see here at TIWWA.
A little more interesting than simply 'liking' a post, blog entry, gallery image, download review or comment; but of course, 'like' is still an option!

Let's see how they work in an example forum post, and then cover the options you'll have available:-


At first glance it may look a little confusing but what you see above is a looping animation showing the default Reactions setup, below a post or comment.
First it shows the logged-in user clicking on the React feature's 'Like' blue love button (he he - Love is blue - see what I did there?!

).
Then it shows the user clicking on it again to see the other available react options in case they want to change from 'Like' to a different one, then selecting 'Confused'.
Then it shows the user removing their chosen reaction to the post completely with the X (Remove) button. The gif then loops around to show you again.
The software includes 5 reactions by default, but we can add more of our own, tailored to Millennium and our members:
Like
Thanks
Confused
Sad
Haha
Will we still see a total summary for all our posts/comments like the current reputation?
A user's total reputation count is still shown alongside their content and in their profile, of course.
Can we see who reacted to a post, similar to how we can currently see who 'liked' our posts/comments?
As you'd expect, you can click individual reaction counts (or the overall reputation score, if we enable that setting) to view who reacted to the content in a small pop-up window.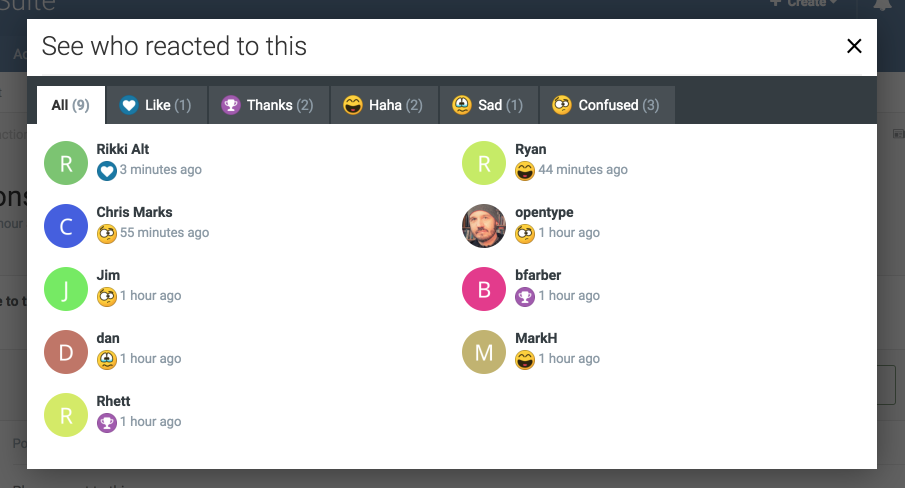 (On touch devices, on-hover functionality is not suitable, and so for these devices the reactions UI looks slightly different, but works the same).
Where can we use Reactions?
You'll be able to use reactions anywhere on our site where you can currently like a post, comment or any other price of content. Reactions play well with all areas of the suite, including the new Recommended Replies:


...and see them in activity streams...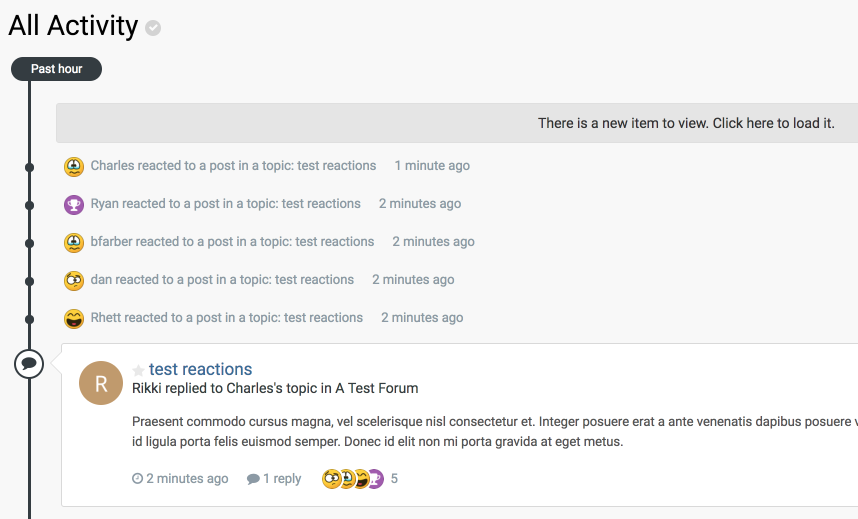 We hope you're looking forward to this new feature.  It's already been a hit on the developer's internal testing site, and we're looking forward to seeing how we can customise it for use on our own community.
More to come soon on what we'll be seeing later this summer!