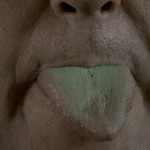 About This Club
Pop into Lucy's Pantry and discuss your favourite food, drinks, share recipes and your favourite eating establishments!
---
Category
Food, Drink & Recipes
What's new in this club

On second though, leave it as Coulis. I don't think a candy could come close to the flavor this has, I'll bet!

Thought so since the plain are rounder. I was called "Peanut" by my dad and grandpa. Everyone else called me by my nickname, "Dolly." Take your pick; I'll answer to it. Isn't there a MLM episode where the father calls his daughter "Peanut," and I think while she's at the piano? Plus, the song played was also personal to me. I may have the wrong show in my memory.

Gruesome. Good advice above though. Criminals could put anything in them to make a buck. I'm about to have some of those dubious, multi-vitamin supplements with my coffee, only to use them up mind.

Mmm, good suggestion! I have no idea how to make hard candy other than freezing it (!), but it sounds tasty. Re the seeds, that's an idea, it could make the process even quicker. Might have to make another batch soon!

I wanted to ask, can you strain the seeds from teh raspberries before adding it to the sugar? And how much sugary syrup d you think it would take to make this hard candy? I've been watching candy making videos, LOL! Seriously, Raspberry Coulis, the liquid tastiness of it, seems like something they'd serve in heaven!

Or fit in in Southeast Louisiana! LOL

If you say jus (pronounced 'zhew') instead of gravy, you've nailed fine dining and can compete on Masterchef!

I also learned a new word: Coulis

OH MY, looks amazing. Thank you.

From the album: The Old Man's Raspberry Coulis

Step 5 - Serve with something nice that you bought from a store, take credit for the whole thing. They will love you.

Welcome to the Old Man's cabin kitchen where I'll show you a great tasting raspberry coulis, er sauce recipe, that I made yesterday that Lucy Butler herself would love to taste, because it's perfect with dark chocolate, deserts, ice cream etc. The intense raspberry aroma is lovely and the taste is refreshing, sharp but sweet. (Actually I found it online some years back). Skill level: Easy. If you can burn water, you can make this. Serving suggestion: Dark chocolate Christmas pine cone filled with chocolate mousse, topped with edible gold glitter (from M&S!) and served with raspberry coulis. Lucy would be proud! Duration: About 20 mins Ingredients 1/2 cup of white granulated sugar 3 tablespoons of water 1 bag (roughly 12 oz) of frozen raspberries (thawed) or 1lb fresh raspberries (Optional 1 teaspoon kirsch) Equipment A blender or food processor A fine mesh sieve over a slightly larger bowl Wooden spoon Medium-sized pan Okay, lets do this... Heat the water and sugar in a small saucepan on a low to medium heat, stirring occasionally, until the sugar has dissolved (takes about 5 minutes until the resulting syrup is clear, you will see bubbles, just stir them out slowly). Put the raspberries into a blender or food processor and pour on the syrup before it cools, then blend for about 5 seconds at a time, in bursts until the fruit is a puréed sauce. Strain the sauce with a fine mesh sieve over the bowl to remove the seeds then add the kirch if using. See my tips below to speed this up! Stick the sauce in your fridge for an hour and it thickens it a little, serve it chilled with your desert. The Old Man's Tips: Keep a bag of supermarket frozen raspberries in the freezer. When needed I leave them overnight in the fridge to thaw naturally for best results, but you could plonk them in warm water and leave them a few hours or defrost carefully in a microwave oven if you're in a hurry. I find the raspberry seeds quickly clog the sieve and the fairly thick sauce takes a longer time to drip through into bowl, so you can you speed up the filtering process easily by gently smoothing the sauce up the sides of the sieve using the back of a wooden spoon. The sauce runs back down and through the mesh until mostly just seeds and pulp are left. Use all the surface area of the sieve coating it, but don't force it or the seeds will get pushed through. The sauce will flow! You could use different fruit such as mango or strawberry. The sauce will keep in a fridge inside a sealed container or cup for about 5 days, but I guarantee you'll have eaten it within 1 or 2 days!

It's just around the corner, and what fun it would be to share some Halloween recipes. Walkabout posted a video on Facebook and I couldn't resist finding one I could post here. Jello Worms Link for the recipe ~ http://www.food.com/recipe/halloween-worms-3092

(I have not tried this but it looks good. I recommend the low sodium soup and consomme. The original soup has 42% sodium, 1,028 mg in it. The original consomme will have 700-800 mg of sodium, with the low sodium being around 30% less. This is why I rarely buy canned soup, it's full of sodium.) Crock Pot French Onion Beef Sliders 4 lbs beef chuck roast 2-10.5 oz cans French Onion Soup 1-10.5 oz can Beef Consomme Cook on high for 4 hours Shred the beef Transfer 3 cups of broth to a saucepan Reduce (boil) the broth for 10 minutes Spoon meat onto dinner roles Top with provolone cheese Bake at 350 F for 5 minutes Spoon broth into individual bowls for dipping Video ~ https://www.yahoo.com/news/crock-pot-french-onion-beef-175712660.html (In case you choose to make your own soups and consomme, here are links to the recipes.) French Onion Soup ~ http://www.thekitchn.com/how-to-make-french-onion-soup-cooking-lessons-from-the-kitchn-110054 Beef Consomme ~ http://www.food.com/recipe/beef-consomme-81043

You are veeeeeeeeeeeery welcome! !

Awesome Libby, hope you enjoy them. I'd go bonkers without peanut butter in the house. As I'm sure you know, beans are very good for you, and remember, chocolate comes from a bean. A good old American bean dish is a beef roast or steak cut up, stew meat, or whatever your choice, onions, etc. (your choice), a little brown sugar, (or sweetener of your choice), and pinto beans, remembering to soak them overnight. Cook until beef is tender and beans are cooked and soft. Great and traditional with corn bread. Beans are all over the world. In Western times, that was mostly cowboy's diet out on the range or on a cattle drive, beans and bread, and of course beef. Yes, love the "protein cookies" title. Also, experiment and try the banana and oats recipe with peanut butter. You may have to add a tab more oats, not sure.

For some reason, a couple of days ago I had the urge to bake peanut butter cookies. Which I had never done before. I think I must have read this topic and the ideas got into my subconscious and had only just managed to make their way to the surface. I used a recipe I found on the internet, but it included sugar. I didn't use the whole amount, but they still tasted a bit too sweet. I'll try your version next, Earthnut. And I'll try the banana and oat cookie recipe. My daughter is very keen on healthy snacks for my grandson, who is dairy-free, so those recipes are ideal. Not sure about the chocolate bean cookies. I've never heard of black beans before, but apparently they're available in most supermarkets here. But the only recipes I've been able to find are for savoury dishes, mostly from South America and the Caribbean. Are those what you mean? I love your take on these, seesthru – "protein cookies"! Yay indeed!

oohhhh thanks for these!!