Good news, I had chance to work on the idea of a Millennium style countdown gadget for Windows Vista (see my previous post).
I'm really excited about this, because a) I think the idea is really cool and b) I got it to work without too many problems along the way.
Below is a screen shot of my desktop with the results so far: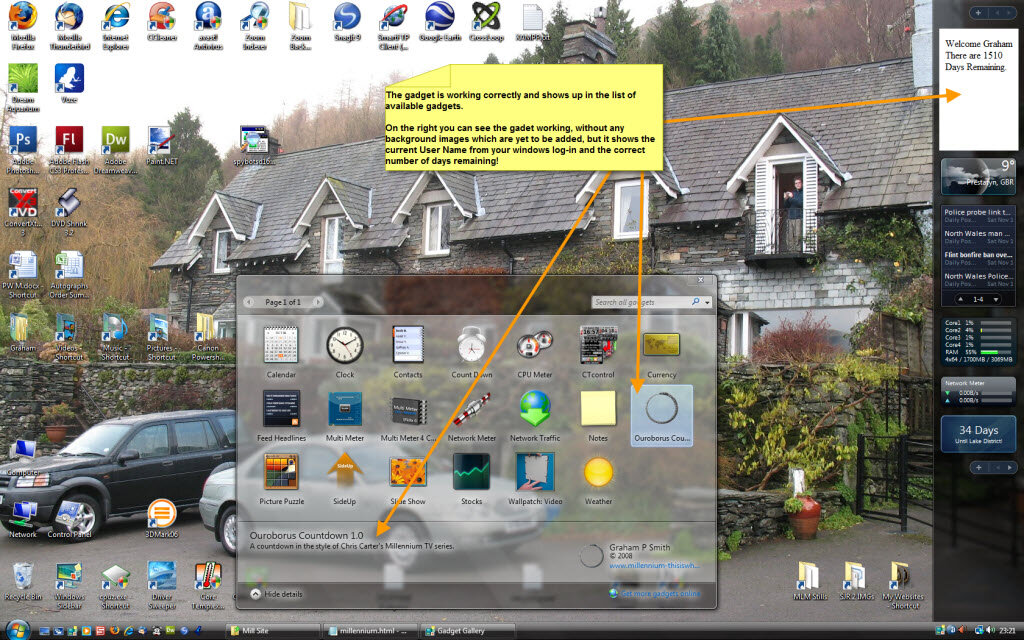 As you can see (ignoring my busy background wallpaper and other icons), the gadget is listed in the gadget box with a brief description, but more importantly over to the top right, you'll see the first working version. I got the countdown to work okay and then it occurred to me to have it display your actual name, just like the one in the Millennium tv series. It was surprisingly easy to pull this from the Windows system, so the gadget says, "Welcome (username), There are xxx days remaining."
Its all early days, but now that the mechanics are working okay, I can go about adding some graphics and making it all the more shiny!
Hope you like the results so far. I'm thinking of having versions with the Ouro background and also the main characters Frank, Peter and Lucy.
Any thoughts you may have. I'd love to read.
Updated:
The first Vista Millennium gadget is now available for download.