Seven And One - Frank Black's Soliloquy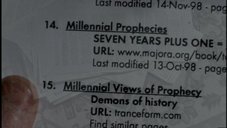 In Millennium Season Three's episode Seven And One, Frank Black, for the third time in his life, ends up on the receiving end of a series of disturbing Polaroid photographs. This time, however, he begins questioning his own sanity for the digitally enhanced photos depict the victim of a horrible drowning accident and the face in one of the Polaroid's is his own! Is a ruthless demon seeking to push him over the edge into madness? Frank's painful childhood memories and the FBI's opinions that he is a crazed man make it all the more difficult for him to confront the evil attempting to ruin him.
Millennium - This is who we are is proud to make available for download two digitally cleaned and restored audio files. The first and full version features one of Mark Snow's most beautiful and haunting pieces of Millennium music followed by Frank Black's Soliloquy which he offered after saving the life of his FBI partner Emma Hollis as the conclusion of "Seven And One".
The second version is a shortened version of the first, this time offering just the Soliloquy.