Frank Black's Facility - Understanding criminal profiler Frank Black's unique gift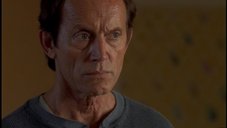 Millennium's criminal profiler Frank Black displayed a finely tuned sense of awareness, intelligence and understanding when it came to what he referred to as his 'gift'. Often misinterpreted and misunderstood, Frank's insight when visiting a horrific crime scene was often easily confused by the show's viewers as a series of graphic, violent visions. Although Frank's gift would later be reformulated, it was not the original intention of series creator, executive producer Chris Carter that Frank be psychic.
We asked James Jordan (aka TIWWA's ZeusFaber), Co-Executive Producer of Millennium Virtual Season Five to explain the original intention behind Millennium Group criminal profiler Frank Black's gift, its on-screen visual representation and how it changed throughout later seasons of Chris Carter's Millennium.