Suddenly Millennium - Mad TV's spoof on Suddenly Susan and Millennium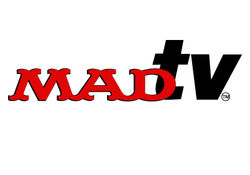 MADtv is an American sketch comedy television series based on the humor magazine, Mad. It was first broadcast on October 14, 1995. The one-hour show airs Saturday nights on Fox and is in syndication on Comedy Central.
Season 2 of MADtv featured a parady entitled Suddenly Millennium, during the season's 12th episode which was broadcast on February 1st, 1997. Hosted by Rodney Dangerfield, the episode featured a mixed bag of comedy content:
Marsh (David Herman) proves that he loves the African American race on X-News.
R&B singer Savante (Phil LaMarr) is called upon to sing for a children's benefit album, but his language doesn't fit well for two executives (David Herman, Debra Wilson).
Horror and humor cross paths in a parody of both Suddenly Susan and Millennium.
Host Rodney Dangerfield plugs his new movie Meet Wally Sparks on Cabana Chat.
At a rent-a-car station, a man (Orlando Jones) tries to prove he didn't pass wind.
A college student (Phil LaMarr) unwittingly finds himself in a fight courtesy of his dorm roommate (Bryan Callen).
Below is an archived transcript of Suddenly Millennium. The spoof has finally been posted on YouTube. Thanks to Ethsnafu for the sharing the discovery and for saultonofswi for posting the video on Youtube!
The video was available to enjoy via Youtube, but has since been removed. We'll leave the link in case it ever returns!