Narratives from a Luminary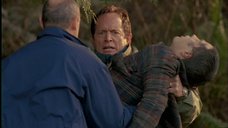 Taken from the Millennium Season Two episode Luminary written by Chip Johannessen and directed by Thomas J. Wright, below are nine sound clips from Luminary, provided in MP3 format.
I had read many times how much Millennium fans would like to obtain Mark Snow's beautiful themes which accompany this episode, and also recordings of Alex Glaser/Ventoux's narration. These sound clips were created many years ago and dedicated to those fans who found and continue to find emotive meaning within this second season episode of Millennium. Mark Snow's music from Luminary has of course since been released via the excellent and highly recommended official soundtracks, but these clips remain for any interested in the narrative.
Interested in learning more about the background inspiration for Luminary? You may find the following links as thought provoking as many (but not all) find this episode:-